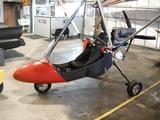 In Stock (#55) Northwing Maverick Ultralight
Click on picture for more details. This ultralight (no Sport Pilot Cert required) has been under my supervision for the last 3 years. Always landed on asphalt or grass. The owner is a meticulous fireman & has taken very good care of his little "Firefly".
$10,000 OBO
---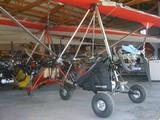 In Stock (#54) NORTHWING MAVERICK CUSTOM
Click on picture for more details. Custom Northwing Maverick trike. Off-field landing and XC capability is not easy to find in ultralight trikes but this one was modified to address those demands. Only one owner. Purchased new about 2.5 years ago by doctor & kept in hangar.
$18,200 OBO
---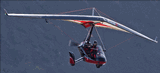 SOLD (#53) DTA 912
Click photo for details & more photos. DTA is the only trike in the world that does not require a front limiter tube so no encumbrances to the view. This DTA is about 5 years old but only has 243 hours total time. It has been professionally maintained.
$44,000.00 OBO
---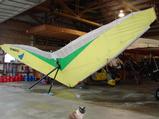 In Stock: (#52) LaMouette 12.9m XC Wing
Click on Picture for Details & More Pictures. This is an older LaMouette Top 12.9 but seems to be in pretty good shape - otherwise we would have already recycled it. I've flown a Top 12.9 on a Cosmos Bison with a Rotax 503 with a single carburetor. So, I know it's one of the few fast wings that can work with low-horsepower trikes.
$2,750.00
---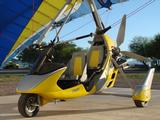 In Stock: (#51) Air Creation Tanarg 582 / Ixess
Click the photo for more details & photos. This has been my personal trike for about 3 years. It's in pristine condition. I have sold aircraft based on how clean I keep my equipment, tools and my hangar - OCD for sure... Look at the pictures & try to guess how many hours are on the machine - I will extend a discount if you can guess within 10 hours of the total time.
$29,500.00 OBO
---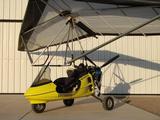 In Stock: (#50) Northwing Apache 912-S
Click the photo for details & 15 more photos. This a great trike and the price speaks for itself - obviously someone is going to get a great deal. Northwing is a solid utilitarian trike builder, but the owner has just ordered a new Air Creation Tanarg.
$33,500.00
---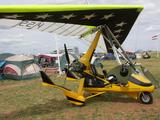 In Stock: (#49) Aerotrike Cobra 912-S w/ Airborne Cruze Wing
Click on the picture to open the details & more pictures. This aircraft (N227EG) was originally a custom-build by the Aerotrike factory in South Africa for a client who competed in the world championships. He lost because the wing was so ugly - just kidding.
$39,000 OBO
---
In Stock (#48) Air Creation GTE w/ Northwing M-Pulse 15.0m Wing
The perfect trike/wing combination for the recreational flyer. Fully registered w/ N# (N227EH). All maintenance logs are complete & detailed. Nice trike. Click on the picture for complete details & more photos. I put most of the hours on this aircraft myself.
$17,000
---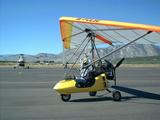 SOLD: (#47) Northwing Apache Sport 503SCDI
Details & More Photos Coming Soon.
$16,000 Pending Equipment
---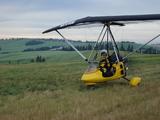 SOLD - In Stock (#46) Northwing Apache Sport 912 with only 15 hours total time.
Click on the picture for additional pictures and full details. Using CAD & Kamron's direction, we personally designed & developed the new Sport fairing & composite package for the Apache Sports. We used the same CAD & experience from 2000+ hours of trike flying to assist Northwing with the development of the 912 version of the Apache Sport last winter.
$41K or Make Fair Offer
---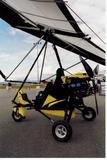 SOLD (#45): Cosmos Ph-3 Rotax 912-S (100hp) Float Trike
Click on the picture for additional pictures & details. This Cosmos Phase-3 package is one of only a few in the world and offers an excellent price & opportunity to acquire the all the versatility you're after. Cosmos is supported here in the US for the transition to Sport Pilot and N-numbering this trike.
$39,500.00
---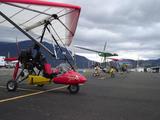 SOLD (#44): Cosmos Phase-2 w/ Rotax 618dcdi
Click on Picture for Details & more pictures. This trike would make a great float trike and we have a set of Cosmos composite high performance floats as well as some Full Lotus inflatables available if you're interested. The trike has a full front fairing & digital instrumentation package along with the dash mount comtronics module and full communications for two including VHF & Audio input.
Was: $19,500 Now: $16,000 (TRADED)
---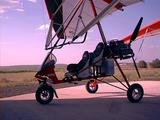 In Stock (#43): Air Creation Twin with Nothwing 15.0m Mustang Strutted Wing
Click on picture for details. This trike has been meticulously maintained & cared for by a gentleman that can't imagine it any other way. It is the smoothest running 503 I've ever encountered and looks brand new even though it has almost 400 hours on it.
$14,000
---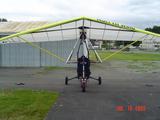 SOLD. In Stock(#42): Northwing Navajo / ST 2-Seat Trike & 17.5 Strutted Wing
Click on the picture for more pics & details. I think this is the best buy I have on my website; and with a few of you that have been taking lessons, I'm betting it won't last very long. Yes, we can finish your training in this aircraft for an hourly discount and you'll get used to the aircraft as well.
$14,500.00
---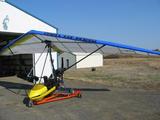 SOLD In Stock(#41): 2004 Northwing Maverick Legend Single Seat
Click the pic for full details. We sold this trike brand new to the seller. With only 80 hours on this trike, Steve, a former general aviation pilot, has redeveloped the 'need for speed' and is sacrificing this gem of a Part 103 ultralight. That's right, no Sport Pilot bull*%$# on this one.
$12,000.00
---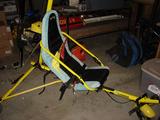 In Stock (#39): Cosmos Samba Single-Seat Glider Trike
Click on picture for details & additional pictures. This trike that hasn't been flown in about two years and THERE ARE ONLY 2 HOURS TOTAL TIME ON THIS TRIKE. Most of our guys are two-seat animals or motorheads and just don't understand this type of flying.
$6000.00 Trike Only & $9200.00 w/ Brand New Northwing EZ-190
---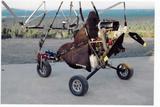 SOLD (#38): Northwing Apache Instructional Trike
Click on Picture for Details. Northwing has a lengthy sales pitch about all the aspects of the ST / Navajo including the adjustable engine mounts, steal backframe & dual mast... Frankly, it comes down to this; the ST is a tough trike/wing combination, ready to fly, for a price that can't be beat.
$17,500
---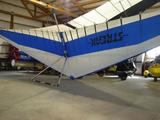 SOLD (#37): 2003 Airborne Streak Wing Only
Here's your hot rod wing. This wing cruises hands off at 65 and 85 with minimal influence. Runway used while testing was over 380 feet and it lands a bit fast at around 40-44. There are probably only 8-12 hours on this wing but I'm going to say 40 hours to be safe.
Make an Offer.
---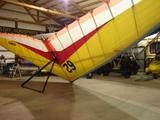 SOLD (#36): Used Chronos 16 Wing Only
400 hours. This was my personal wing for two years. I sold it to one of my students. A thermal tipped the trike over while being loosely tied down and caused rash to leading edge of sail. Professionally repaired by Northwing but the client got creative with far too much sail repair tape as well.
$2600.00
---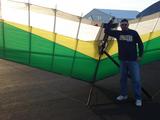 SOLD (#35): LaMouette Chronos 16 Wing Only
Click the pic for full details. We have 3 of these wings in stock and need to blow a couple of them out the door. They all fly well and are in good condition. But, you need to decide which color you like. This one in particular blinded me at first, but the Green & Yellow look pretty nice on a black or yellow trike.
$3500.00
---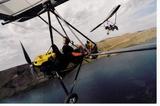 In Stock (#34): Northwing Strutted Wings 15m, 17m, 19m, Contours, Quests, GT4 & GT5 Wings
Click on the picture for details. Although we typically have wings in stock, this advertisement is not for any one specific Strutted-Topless Mustang / MPulse, Contour / GT4 / GT5 wing. It is simply aimed to address the most common questions & interests we're getting as they seem to be growing into the one of the most popular & universal trike wings on the market.
$5900 - $6700
---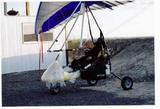 SOLD: Apache Classic in Kit Form.
If you're looking for a great discount on a trike and you have some basic mechanic skills, you can save yourself over $7,000 and an 8 week delivery wait. If you're from out of the area, we'll take the opportunity to teach you about the aircraft, tuning & maintenance while we supervise your assembly of it.
$15,000.00
---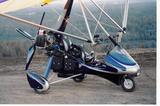 SOLD: 2003 Aerotrike Cobra
Click on Picture for Details. Here's a one of the toughest outback-capable trikes available. It's a sweet machine with a long story. We have plenty of aircraft for all types of pilots, but we would appreciate serious inquiries only on this one. There are only 12 hours on the aircraft, but during the orginal owner's initial instruction, a crosswind, compounded by a bad decision from an inexperienced instructor, forced it into the apron with the left side taking the full impact.
$28,000.00
---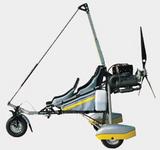 SOLD: Air Creation Twin 503
Click on Picture for details. The AirCreation Twin is one of the most popular introductory two-seaters. We've sold more of this trike than any other. AirCreation uniquely offers the same airframe on all their planes, so the owner can upgrade later to the fully enclosed shells, pods, props, equipment trunks, wings & even different engines.
$17,500
---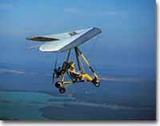 SOLD: Cosmos Samba
Click on Picture for Details. Are you a glide head? 2001 Cosmos Samba with Topless LaMoutte Wing. Other than collecting dust, this aircraft is in perfect condition. In respect to the wing, there are some small, typical dings in the sail from improper packing & traveling but it consistently demonstrates it's award winning flight characteristics as if it were brand new.
$7,200
---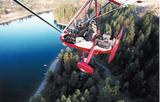 SOLD: Clipper with XP15 Wing
Click on picture for details & history on this machine. As of 6-15-04, the Rotax 582dcdi has been completely overhauled & 'zero-timed'. This trike is a great opportunity for the Used Trike shopper.It has served our flight school well for a long time and still flies great.
$18,500
---
SOLD: Air Creation GTE 582 & Optional Clipper Fairing
Click on Picture for Details. AirCreation GTE 582dcdi with Kiss450 wing, In-Flight Adjustable Trim, Full Instrumentation, Red 4-blade Arplast Helice prop, Electric Start, Full Instructional Package, Finned Wheelpants & more... And, only 40 original hours.
$21,500.00
---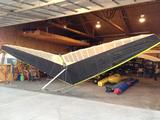 IN STOCK: AEROS SPIRIT 15 - CUSTOM WING
$3,000 OBO
---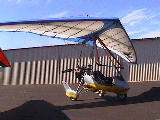 SOLD: Buggy 582 Kiss-13 Wing
2001 Air Creation Buggy, 2-Seater. Kiss 13m V-Max Wing. with 13 hours total time. This was a general inventory trike that never got sold by a dealer when he pursued other interests. The wing is brand new with no hours. It also has the in-flight adjustable trim.
$23,500.00
---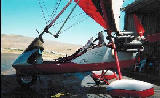 SOLD: Air Creation Clipper 503
Everyone, just a heads-up on a good plane. There are about 100 hours on this plane, as it is a year old. I know the owner and he has never broken this wing down, nor traveled with it. It has always been in a hangar. He is selling this plane for personal reasons he couldn't comment on.
$14,000.00
---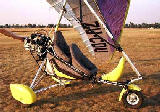 SOLD: New Aerotrike Safari


Click on Picture for Details. This trike is loaded & excursion ready. Probably the most durable trike on the market. We recommend this trike to the pilot that is going to spend a considerable amount of time off the beaten path. A bush-trike by name, we would feel very confident in its natural ability to carry people & gear in comfort for extended flights into 'who-knows-where'… Although the Aerotrike is a foreign trike with the importing time challenges of both trikes & parts, they are a genuine & personable company.
SOLD. $16,620
---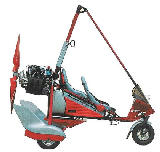 SOLD: Air Creation GTE 503dcdi
Performance, Design, Exotic Materials & Elite Workmanship. This is also a highly durable trike with an incredibly solid & sleek feel in the air. AirCreation's name and reputation as the 'industry leader' in trikes & wings preceed this aircraft. French design & engineering equate this aircraft with the Ferarri.
$19,950.00