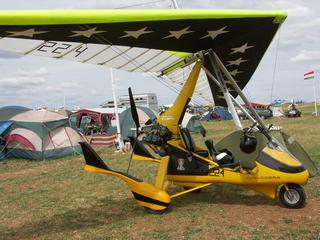 In Stock: (#49) Aerotrike Cobra 912-S w/ Airborne Cruze Wing
Click on the picture to open the details & more pictures. This aircraft (N227EG) was originally a custom-build by the Aerotrike factory in South Africa for a client who competed in the world championships. He lost because the wing was so ugly - just kidding... Actually the wing was essentially a 10 meter custom wing built by Aeros. I had no interest in the wing so I didn't buy it. Nor do I have any interest in flying that fast at all or using all that runway... However, I love the trike. The Cobra has always been one of my favorite 'true' bush trikes and Mike Blythe (www.trike-expeditions.com) proved its ability by flying it around the planet for 8 months as well as several other international expeditions... It's a tough trike & simple to work on or modify.

From a manufacturing standpoint, some of our manufacturers use box-tubing, some use round-tubing and some like the Tanarg are now becoming completely welded airframes. Of the 'round-tube'rs', I think the Cobra is the most robust trike for the money. Yes, the Revo is a great trike & I like Larry, but you wouldn't catch me playing with that trike in the dirt after writing the check. And, I prefer a trike with componentry that is easy to access and easily visible during preflight & inspections - call me old-fashioned...

This particular trike was built for competition & speed - hence the Rotax 912S 100hp engine, small wing & strange looking wheel pants. Aerotrike said they developed the wheelpants in that way because at high speeds, especially when initiating a turn, it is very important to have a similar amount of surface available to the relative wind 'behind the hanging point' as well as 'in front' of it. IF you've been flying for awhile, and you truly think about it, we know that some (not mentioning any names) trikes that actually exagerate an adverse yaw effect when entering a turn. Creepy. This honestly happens in 3-axis aircraft as well, but a trike experiences a high torsional load on the mast & hardware during this phenom. The enlongated wheel pants were a demonstrated answer to this issue. At any rate, I have two pairs if you need to blow around the sky with your hair on fire... I ALSO have a set of normal wheel pants for the trike too. There is also an extra mast fairing that I believe was to be modified for the small, gravity-fed reserve fuel tank.

I have a new Airborne Cruze wing in blue & yellow with adjustable trim available for this trike. I personally prefer the way the Cruze flies over any of the other wings Airborne builds, including the new SST & Arrow. You don't have to take this wing if you don't want to. You can chose another wing such as the Northwing 17m or even the GT5 if you would prefer struts. Or, you can simply buy the trike without a wing for a discount.

A gentleman purchased this trike & attempted to use it for a commercial operation in Hawaii. He failed. As a matter of fact, he told me the trike 'blew over' - damaging the prop, left landing gear & scratched the fairing. Typically, this means somebody crashed the trike & won't fess up. So, I called the airport manager and he confirmed the trike did, in fact, lose a tie-down & blow over. I replaced the landing gear on the left side with new parts. I have also replaced the prop. I fixed also repaired the cosmetic damage to the fairing. I have no idea of the hours on the trike but I took the trike to Clyde Poser (DAR & Rotax Service Center) in Seattle, WA. We performed a completely unnecessary top-end rebuild. At whatever hours were on the engine, the valves & seats only showed 10% wear per Rotax specs. We also rebuilt both carburetors & installed the quietest exhaust system in the world. Regardless of my wasted time & money in the process, you will enjoy a 100hp with a 0-timed top end... Yes, I have the receipts & all paperwork. The original prop was an in-flight adjustable pitch prop which is illegal under sport pilot. You can have it, and you can make the decision as to whether you use it or not. One blade needs to be replaced. But, as I've mentioned, an Arplast 3-blade is currently installed. And because it was a variable pitch, there was a manifold pressure gauge in the console but I have removed it and the assembly - but you can have it. All the other standard instruments exist, including an in-dash microair vhf radio.

I expected to finish the project, had the engine mounts and all brackets powder coated but simply haven't had time to move any further. The engine was mounted & preserved with oil fog for 2 years and Rule Aviation completed the assembly, start up & break in about 2 months ago. It runs perfectly.

Nice trike. Just needs somebody to fly it. It should last you a life-time and at the price, you can't replace it for what you'll have into it. Good position to be in, I'd say.
Price:

$39,000 OBO
Please Contact Us For Purchasing Information