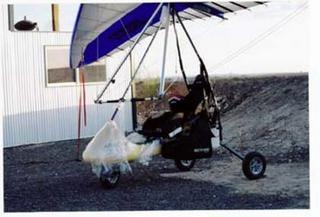 SOLD: Apache Classic in Kit Form.
If you're looking for a great discount on a trike and you have some basic mechanic skills, you can save yourself over $7,000 and an 8 week delivery wait. If you're from out of the area, we'll take the opportunity to teach you about the aircraft, tuning & maintenance while we supervise your assembly of it. We can typically have a student completely trained in 4 days with full ground school. It would be a nice opportunity to learn to fly and assemble your new plane at the same time. 3 of our 10 aircraft are Apaches just like this one, so help & visualization are not far away. We have some wing options for you including a Northwing Mustang Topless/strutted 17.5, Airborne Streak 2, and a LaMouette Chronos 16. These are all great wings but very different in performance. We can fly all 3 if you're interested. Where else can you find that?
Here's a brief description of the aircraft: 2005 Northwing Classic, Yellow Classic fairing with matching wheel pants, Grand Rapids Digital Information System, Rotax 503 with electric start and pull start. There are 250 professionally supervised hours on the engine, but I will vouch for its performance. Powerfin 3-Blade prop still in the box. Communications, VHF & GPS available at a fair price but not included in the package. We will deliver at no charge in the Northwest but need a little time to schedule the trip.
Price:

$15,000.00
Please Contact Us For Purchasing Information